THE SAFETY OF YOUR PATIENTS IS OUR TOP PRIORITY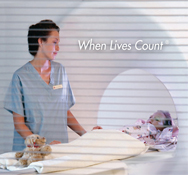 Mednovus, Inc. is a privately-held California corporation in a long-term alliance with Quantum Magnetics, Inc. (wholly owned by GE Security/Safran).
Mednovus has years of experience in the medical field, emphasizing an open partnering relationship with our customers. We place the highest importance on customer feedback - with the goal or providing the best products and the best service in the MR Safety industry.
Quantum Magnetics, Inc. is the "Center for Excellence for Magnetics" for GE Security/Safran, the world leader for mission-critical detection systems. QM's international staff of Ph.D.s in physics, chemistry, and engineering has received over $125M in R & D revenue from government agencies, including the U.S. Dept. of Defense, National Institutes of Health, U.S. Dept. of Transportation (FAA), and the U.S. Dept. of Justice. Awards include MIT Technology Review (World's Top 100 Innovators); SBIR Technology of Year Grand Prize (Landmine Detection); Aviation Security International Award of Excellence, and others.


OUR COMMITMENT:
SUPERIOR QUALITY AND FIRST-CLASS CUSTOMER SERVICE
Whether your magnetic resonance imaging facility is hospital-based or free standing, we will focus our people, energies, and skills on providing superior ferromagnetic detection systems for your unique needs - and provide the first-class customer service you deserve.
Utilizing world-class scientists and working closely with internationally recognized leaders in the medical imaging field, we will maintain the highest ethical and scientific standards in helping you to reduce your risks associated with MRI procedures. We pledge to uphold our mission statement:
"We help protect you and your MRI patients with the most advanced/cost effective ferromagnetic detection technology and superior service."

For more information:
Kemp Massengill, President & Quality Assurance Director
kemp.massengill@mednovus.com or 760.390.1410 (Pacific Time)